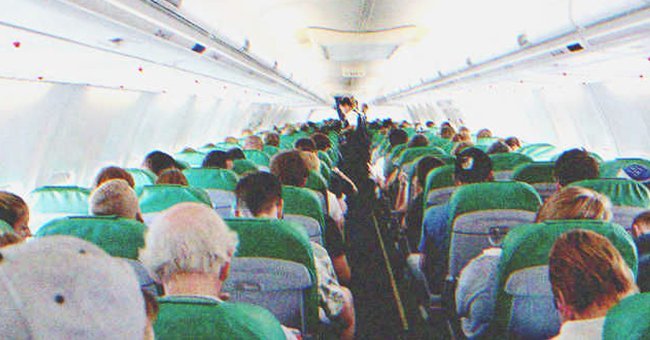 Shutterstock
Elderly Woman Is Rejected Sitting in Business Class, Then Pilot's Photo Falls off Her Purse — Story of the Day

People always attribute sitting in a plane's business class section with wealth, so when an old lady sat there in her tattered clothes and flip-flops on one flight, she stood out like a sore thumb.
Ria did not come from a well-off family, and she had to work day and night to make ends meet. However, she would always save up a portion of her salary for a plane ticket that she said she would one day use for herself.
True enough, the day finally came. She booked a business class ticket to Orlando, and more than the destination, it was the flight that she looked forward to the most.
As she entered the airplane, nobody bothered to look at her. However, as she sat on the business class seat that she purchased, that was when people started to look.
While all the other men and women in the business class section of the plane wore suits and designer dresses, Ria was in a plain white top with small runs on them and a pair of jeans. While everyone wore their best shoes, she was in a pair of flip-flops.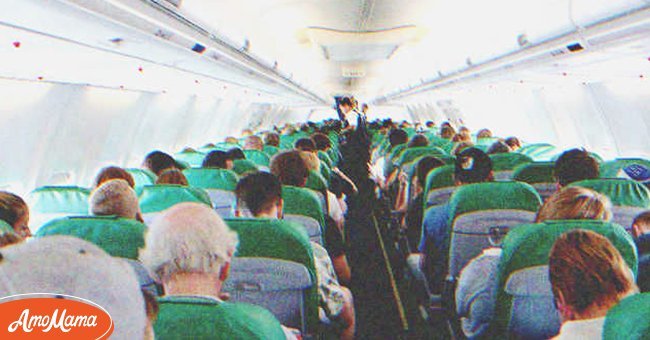 Ria sat in the business class cabin of a full plane. | Photo: Shutterstock
"Why don't you go to your real seat, woman?" the person beside her said as he folded the newspaper he was reading. He called for the flight attendant and said, "Don't you check the tickets over here?"
The flight attendant looked at Ria apologetically before asking for her boarding pass. She then faced the man and said Ria was in the correct seat that she paid for.
Not satisfied, the man looked at Ria from head to toe. He brought out a mask from his bag and wore it over his face. "I bought a business class ticket so that I didn't have to deal with people like her. Now it seems as if you allow peasants in this section too. I'm never flying your airline again," the man said.
At this point, everybody in the business class section had their eyes on the man. A woman decked in bright-colored jewelry stood up from her seat to get a clear view of Ria. "I guess this airline has downgraded so much that they let the business class seats go to just anybody," she exclaimed.
Ria's face was turning red, and she was trying her best not to cry. Her fellow passengers did not stop ridiculing her, and it was clear they wanted her to go.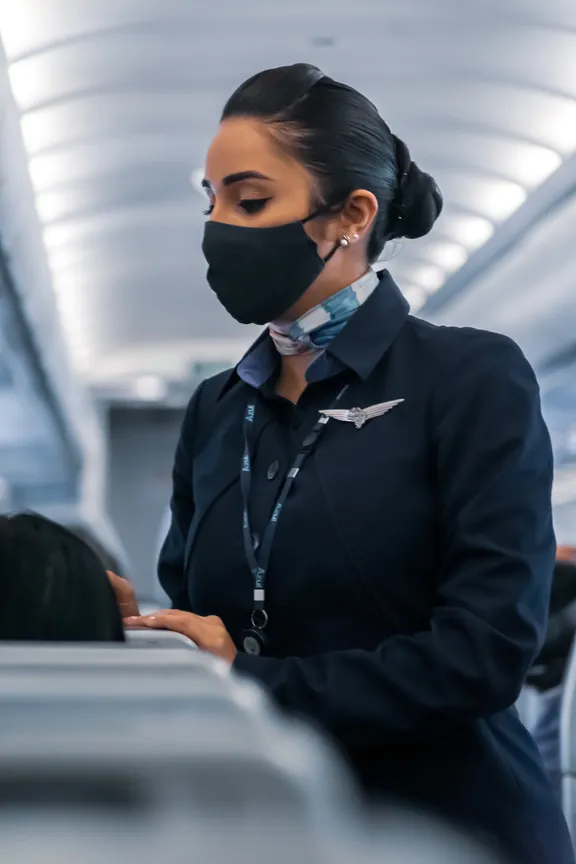 The flight attendant felt bad for Ria after being ridiculed by her fellow passengers. | Photo: Unsplash
As she closed her eyes to tell herself that it was just a temporary feeling, she decided she's heard enough. "Well then, I'll just leave," she said, with tears streaming down her face. As she stood up, she stumbled on the ground, with her belongings falling on the aisle.
Instead of helping her, the cruel man who first spoke ill about her flinched away. It was then that a woman started to help her out, and she, too, got down on her knees to help Ria.
The woman's actions silenced people in the cabin. She apologized for the way the other people treated Ria, and the first thing she picked up was a crumpled photo of a little boy.
"Thank you. Thank you, ma'am," Ria said as she got the photo from her. "This is my son... he is the pilot flying this plane," Ria said, smiling.
"Well, by the looks of it, he must have become a handsome young man," the wealthy old woman said as she got up.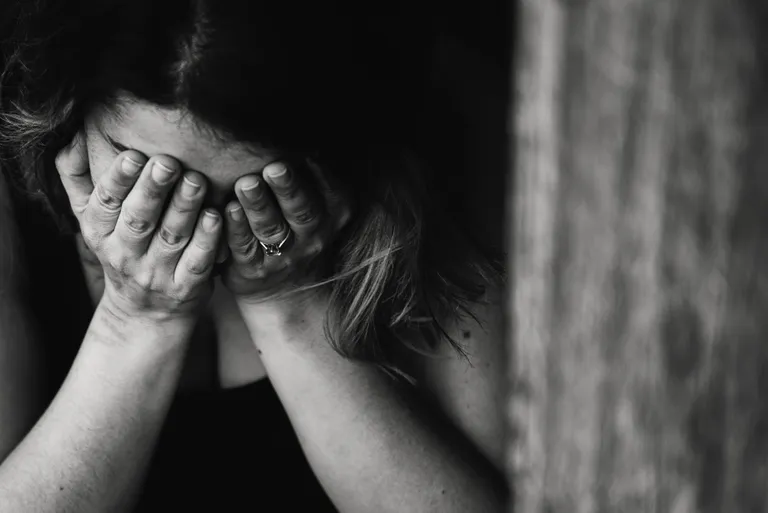 Ria felt bad about the way people were talking about her. | Photo: Pexels
"I wouldn't know... I had to give him up for adoption when he was five because I couldn't take care of him properly," she said, her voice cracking as she was in tears. At this point, the whole plane was quiet. A flight attendant approached Ria and decided to listen to her story.
"I've been looking for my boy for years, but with no luck. Recently, I saw an ad for your airline in the newspaper, and I just knew that it was him. I asked around, and I found out he was flying this flight. I bought a business class ticket because I knew this was the closest I'd ever get to him," she explained.
"Well, ma'am, today is the day you'll finally meet your son. I promise you that," the flight attendant replied. Before responding, Ria decided to address the business class cabin.
"I am sorry for making you all feel uncomfortable. I just wanted to be as close to my son as I could. I saved up my money for this chance. Yes, I am not rich like you, but I am sure you could relate to me when I say I would do anything for my child," she said.
At this point, those who spoke badly about her could not look her in the eye. Sniffles could be heard from around the cabin, as her story touched many.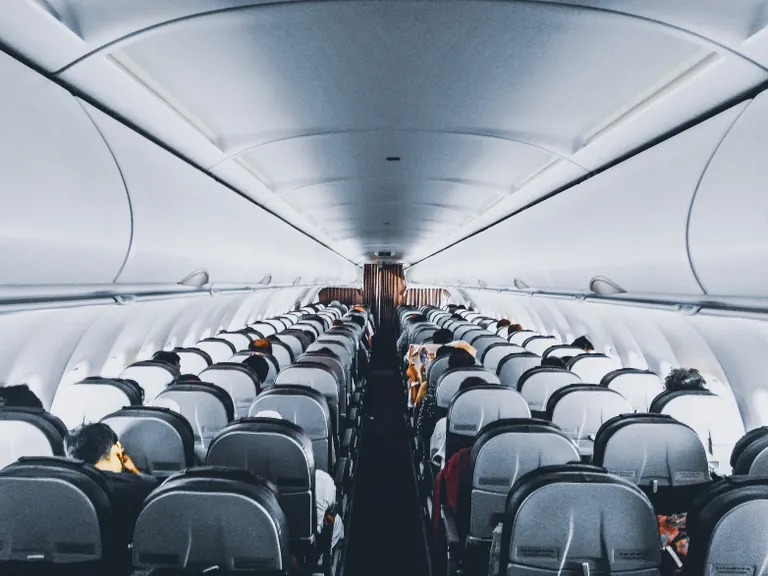 People on the plane were surprised to hear Ria's story | Photo: Pexels
Ria left the cabin with the flight attendant and entered the cockpit. After some minutes of silence, the pilot decided to address the whole plane. "Good morning everyone, this is Captain James Helterbrand speaking. Thank you for flying with us today. I'd just like to mention that there is a special person on this plane today – my mom, and it's her birthday."
When the plane landed in Orlando, James walked straight up to his mother and escorted her out of the plane himself. After years of not being together, Ria and James shared a warm embrace once again and rebuilt their relationship.
What did we learn from this story?
Being rich does not permit you to mistreat others. Not everyone is dealt the same cards in life, so it's important to be kind to everyone you meet. We never know what other people are going through.
Love finds a way. Although Ria couldn't find her son for years, she did everything she could to see him again. She didn't think she'd actually meet him, but she spent her hard-earned money just to be close to him.
Did you enjoy this story? You might like this one about an elderly pilot with Parkinson's disease who was given an opportunity to fly a plane one last time.
This account is inspired by our reader's story and written by a professional writer. Any resemblance to actual names or locations is purely coincidental. All images are for illustration purposes only. Share your story with us; maybe it will change someone's life. If you would like to share your story, please send it to info@amomama.com.
Subscribe if you like this story and want to receive our top stories!