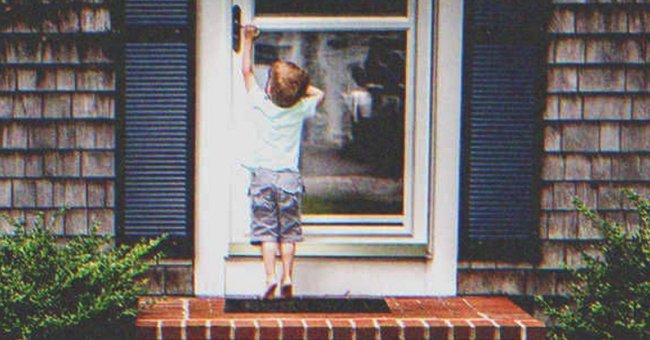 Source: Shutterstock
Woman Feeds Dirty Boy She Finds on Her Doorstep, Many Years Later They Meet Again — Story of the Day

One day, a woman found a frail little boy sitting on her doorstep. She decided to feed him that day, and little did she know, that random act of kindness would end up changing her life.
Isabella walked home from the grocery one day, tugging behind her a cart full of food. As she was walking, she was thinking of the food she'd prepare for her husband and children that day.
Her thoughts were interrupted after she found a frail little boy sitting down on the front porch of their house. It was cold out as it was already December, but the young boy was wearing only a tattered long-sleeved shirt and a pair of thin jogging pants.
"Oh you poor child, what are you doing out here?" she said, concerned. The boy looked up at Isabella, and his face was pale as if he hasn't eaten for days.
"Please help me, kind miss. I have not eaten in three days," he cried out, clutching his stomach. He was about to faint, but Isabella rushed to sit beside him to help him stay stable. She cried out for her husband Brian, and he came rushing out.
Brian carried the young boy inside the house and laid him on the sofa. "Oh Brian, this poor child... let's give him a fresh set of clothes and some food," she said.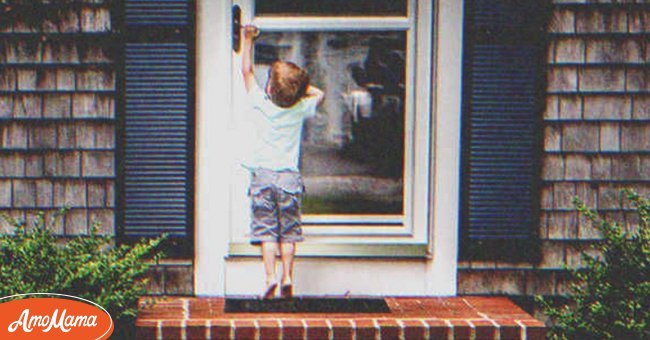 A young boy walked through the entire neighborhood searching for food. | Photo: Shutterstock
"I think we should call 911 to help him," Brian suggested. Isabella shook her head and requested they wait until the boy woke up from his slumber.
A couple of minutes later, the boy woke up. He looked scared as he realized he was inside a house. Isabella rushed to his side and assured him that he'd be okay. "You fainted and we brought you inside the house. Are you alright? Are you cold?" she asked him.
"I'm very hungry, ma'am," he said, his eyes filled with tears. "I've been searching for someone who would give me food, but people turned me away. Thank you for not leaving me outside," he cried.
Isabella didn't want him to feel bad about himself, so she decided to cheer him up. "Well, I'm about to have some lunch myself. Do you want to join me?" she said, assisting him as he tried to stand up.
They had two grilled chicken sandwiches each, which they devoured with a glass of water and a glass of iced tea. "What is your name, sweetheart?" Isabella asked the child after his first bite of food.
"My name is Lorenzo, but you can call me Loren," he replied.
"Well, Loren, you have to eat slowly, okay? You don't want your stomach to get upset from eating so fast," she said. He nodded, and the two of them enjoyed their meal together at a slow pace.
Isabella decided to ask what happened outside, and Loren revealed that his mother was in the hospital. "I couldn't call the police or my teachers for any help, because they'd take me away from my mom. My dad left us when he found out my mom was sick," Loren explained.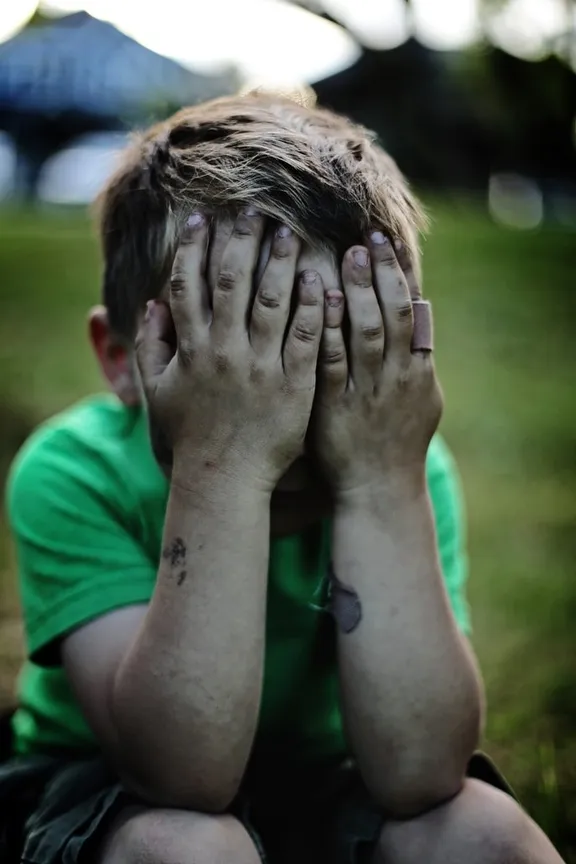 Loren was hungry and afraid as everyone turned him away. | Photo: Unsplash
"Oh sweetheart, you don't know how long your mom is going to be at the hospital. Someone needs to take care of you," Isabella said, concerned.
Loren shook his head. "My mom asked grandma to come over, but she's flying all the way from New Jersey. She's arriving tomorrow, but when I saw we ran out of food, I couldn't help it and I started going around the neighborhood to ask for help."
Isabella was concerned for the boy, so she offered he stay with them until his grandmother came the next day. That night, Loren had a warm bath and a nice set of clothes. He slept in a comfortable bed and woke up without a backache.
After Loren left for his house, they never heard from him again. Years passed, and Isabella and her grown-up children went through some hard times after she was diagnosed with kidney failure.
Brian nor any of their children could help Isabella, because of her rare blood type. Her probability to get a donor match was slim, so she was slowly trying to be at peace with her numbered days on earth.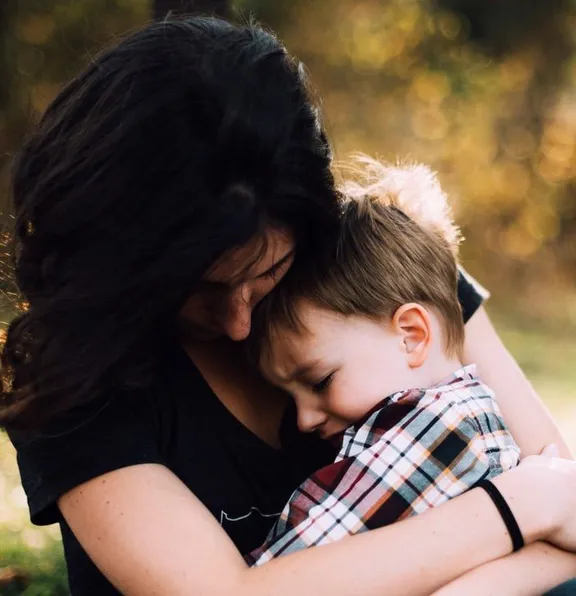 Isabella gave Loren a fresh set of clothes and a place to sleep that night. | Photo: Unsplash
Her daughter Stacey was not quick to give up. She used social media to try and find a donor, sharing Isabella's story and photo. A couple of days after she launched the campaign, a man came forward and shared he and Isabella shared the same blood type.
Thanks to this young man's kindness, Isabella got a second chance at life. Before the procedure, she asked the nurse to let her meet the donor.
"Hello, sweet boy. I'd just like to thank you for doing this for a complete stranger. I will never forget this and I will be grateful all my life," she said, placing her hand on his.
The young man smiled. "Miss Isabella, I don't think you remember me. I'm repaying you for the kindness you showed me ten years ago. I'm Loren. You saved my life when I was hungry. That kindness and that sandwich meant a lot to me," he said.
"Loren? Is it really you?" Isabella cried, pulling on the wheelchair to move her closer. "You've always been a sweetheart. Thank you for doing this!"
Soon after, they were wheeled into the operating room. They woke up after the successful transplant and rekindled their friendship with one another.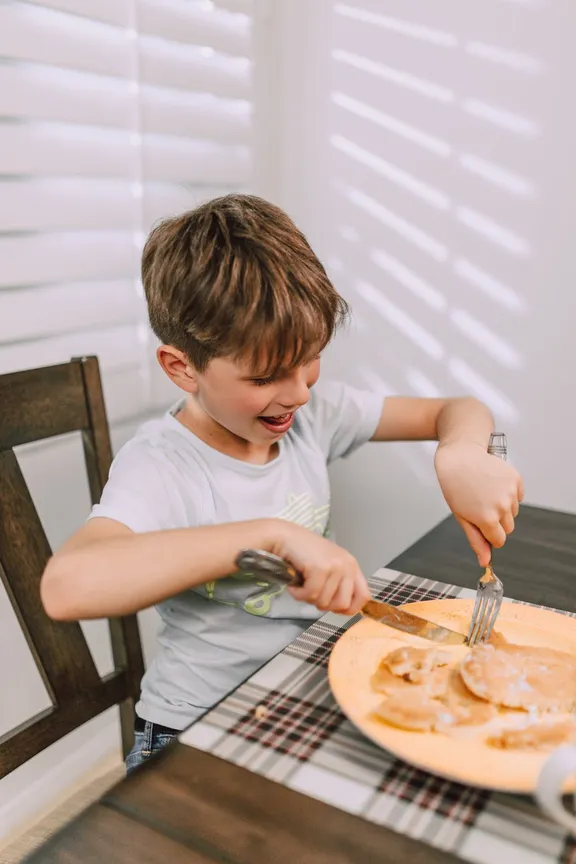 Loren never forgot the act of kindness that Isabella did for him when he was a child. | Photo: Pexels
What can we take from this story?
What might seem small to us might mean the world to other people. That day, Isabella spared two sandwiches and a glass of iced tea for Loren. While it was simple for her, it actually saved Loren's life that day.
The kindness you put out will find its way back to you. Isabella thought that she and Loren would only meet once in their lifetimes. However, years later, they found their way back together, and Loren repaid her for her kindness.
Did you enjoy this story? You might like this one about a rich boy who opened the door and saw a dirty stranger who addressed him as "son."
This account is inspired by our reader's story and written by a professional writer. Any resemblance to actual names or locations is purely coincidental. All images are for illustration purposes only. Share your story with us; maybe it will change someone's life. If you would like to share your story, please send it to info@amomama.com.
Subscribe if you like this story and want to receive our top stories!