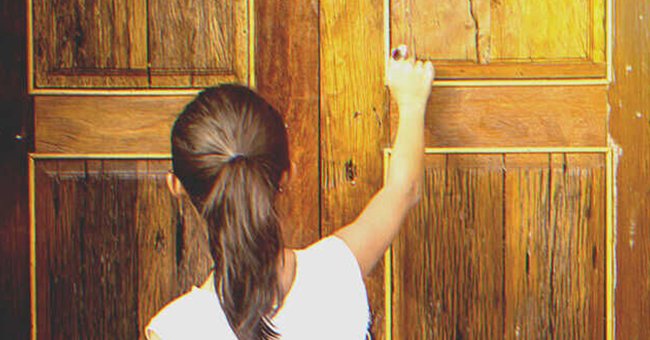 Shutterstock
Before Easter, Girl Treats Lonely Old Lady to Groceries and the Woman Recognizes Her Ring — Story of the Day

81-year-old Maisie Murray lived alone in her house and never let anyone in. Her neighbors had never seen her relatives, and several questioned her sanity. Sadly, the week before Easter, Maisie fell ill. She couldn't go grocery shopping, and her neighbors weren't willing to assist her. But then she heard a knock on the door...
Maisie was shocked as she heard the knock. She hadn't had a visitor in several years, so she wondered who it could be. She hobbled to the door for a few minutes while the visitor kept knocking. "Jesus Christ! Please stop knocking. I am coming!" she screamed, irritated.
She opened the door and saw a young girl standing on her porch with a bag of groceries in her hand.
"Mrs. Murray?" she asked, glancing at the house nameplate. "Hello, my name is Hannah Stevens. I attend the St. Memorial School. On the occasion of Easter, our school is currently running a campaign where we help older citizens in our localities with basic things like groceries or anything else they might need. So I got some groceries for you."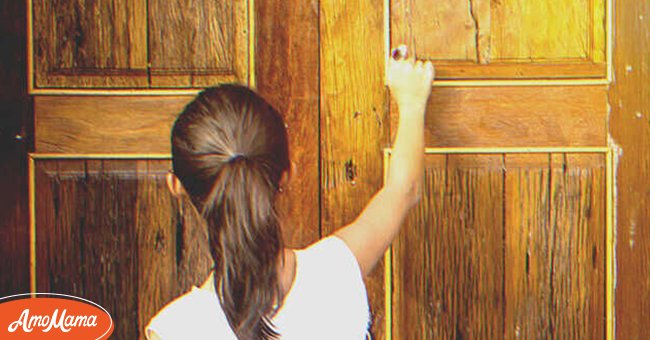 A young girl paid a visit to Maisie days before Easter. | Source: Shutterstock
Maisie's eyes glittered at the sight of food. "Oh, thank you, thank you!" she cried. "That's so thoughtful of you."
"Well, Mrs. Murray, I was more than pleased to help," Hannah said, handing her the grocery bag. "You know, we live nearby. I pass by your house frequently on my way to the neighborhood park, but I've never seen you with anyone. You're always alone, so I just wanted to say that you could visit us anytime you want…Mrs. Murray? Are you all right?" Hannah asked, noticing the older woman shift and she appeared to be in deep thought.
"Huh, what?"
"I just said you could visit us if you ever feel alone," Hannah repeated.
"Oh, what, no, no, I'm…." Before Maisie could say anything, 11-year-old Hannah cut her off.
"Are you sure you're okay, Mrs. Murray? You seem lost."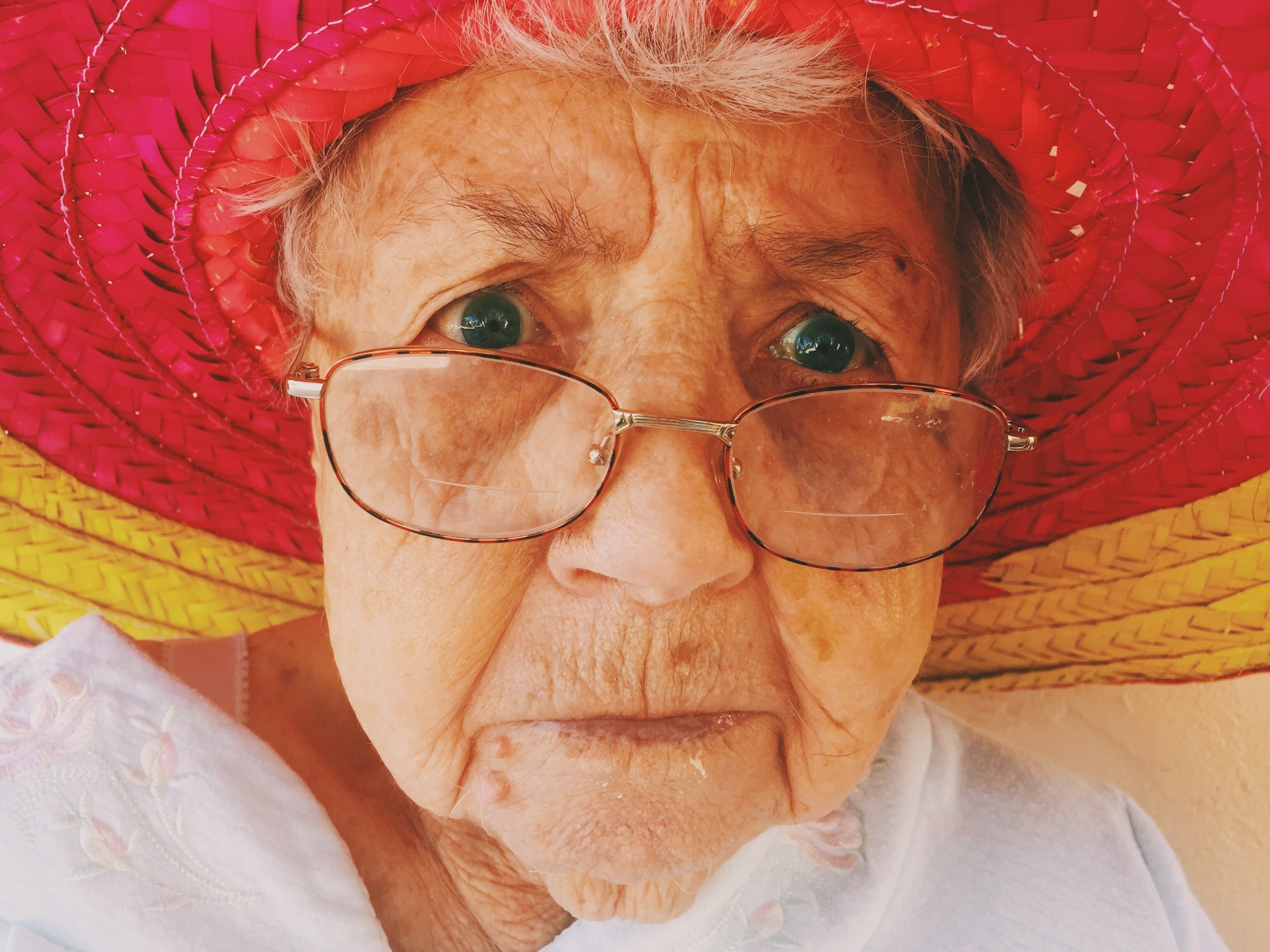 Everyone feared Maisie and never approached her. | Source: Pexels
"Oh, no, dear, there's nothing like that. I'm just not feeling great. I hurt my knee after I tripped in the kitchen a few days ago. That's it. Thank you for the groceries, by the way," she replied and suddenly shut the door.
"Ah, well..." Hannah exhaled a sigh. "It's okay, Mrs. Murray. I'll see if I get some time tomorrow. I can help you with cleaning!" Hannah yelled from the doorstep. But there was no answer.
Hannah thought Maisie's behavior was strange and decided she would visit her again the next day. Maisie, on the other hand, was still reeling from what she'd witnessed.
As Hannah handed her the grocery bag, Maisie's eyes had darted to the ring the little girl was wearing. Maisie had seen that ring before; it belonged to her past. She was shocked to see it on Hannah's finger, but she masked her shock at recognizing it.
"Oh, I didn't know it had a picture inside!" exclaimed Hannah, excited.
But how did Hannah have it? How did she come across it? Maisie was eager for the answers. So when Hannah came to see her the next day, she let her in. It was the first time she'd let someone into her home in several years.
While Hannah cleaned her house, Maisie's eyes were fixated on Hannah's ring. As the girl finished cleaning, the older woman offered her some tea and gently asked, "Your ring is beautiful, sweetheart," she said. "Do you mind if I look at it?"
Maisie recognized Hannah's ring. | Source: Pexels
"Of course," Hannah said and she handed her the ring.
As Maisie examined it, she clicked open the ring and it revealed a photograph. Only Maisie knew how difficult it was for her to keep her emotions at bay as she glanced at the photo. "Oh, there - there's a photo inside," she exclaimed, her voice faltering as if she hadn't realized it could be there. "Hannah, who gave you this ring?"
"Oh, I didn't know it had a picture inside!" exclaimed Hannah, excited. "My mom gave me this ring, Mrs. Murray. I will show this to her. It's so cool!"
"I see," Maisie whispered quietly. "You're a lovely girl, Hannah. Your mother did a good job raising you. You know what, I'd love to meet her. How about we celebrate Easter at my home this year? If your mom doesn't mind...And dinner would be on old Mrs. Murray!"
"Oh, that's a great idea, Mrs. Murray. Mom would be so happy! Actually, dad is away on a business trip, so it's just mom and me at home. I am sure mom would love to meet you!"
"I'd be more than just happy to see her, darling. Tell your mother she is an amazing person...I'm waiting to meet her," she said, smiling.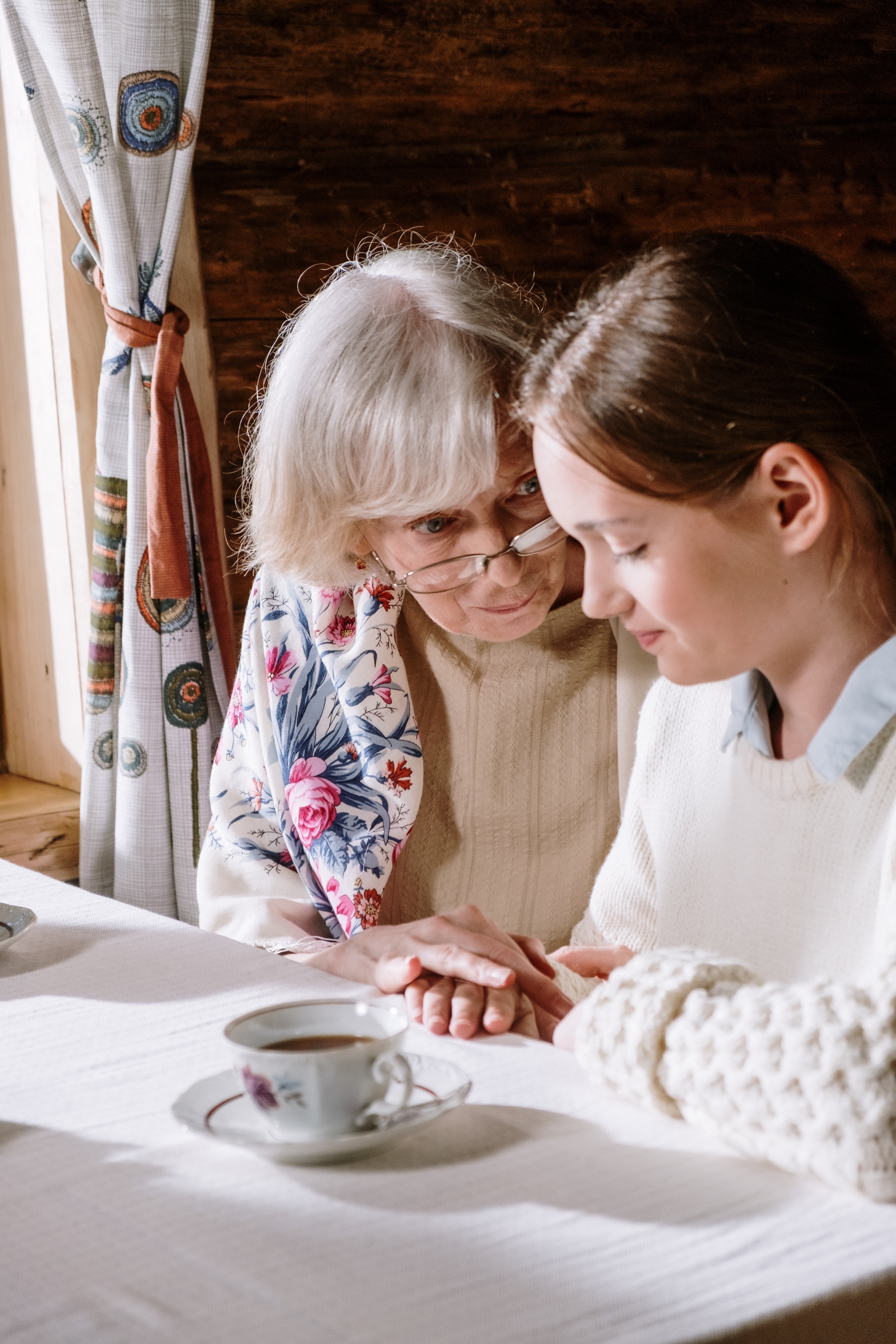 Maisie was eager to meet Hannah's mother. | Source: Pexels
Hannah and her mother, Brittany, were supposed to visit Mrs. Murray two days later for Easter. But the next day, when Mrs. Murray answered her door, she saw Hannah and Brittany on her doorstep. Brittany was frozen in place, her eyes welling up.
"It IS you," she stated after a brief pause. "I - I can't believe it! When Hannah told me about the ring, I just couldn't believe her!"
"Brittany, sweetheart! I'm sorry," Maisie began to cry. "Please forgive me! I was a little overbearing—"
"Oh, come here," Brittany cried, hugging Maisie before she could complete her sentence. "I am happy to see you. I've missed you so much!"
"Mom?" Hannah asked, confused. "What is going on?"
"Oh," Brittany wiped her tears. "Hannah, honey. Mrs. Murray is my mom, and she's your granny. The picture you saw inside the ring was of mom and me. I was just three when we took that picture. That ring belongs to your great-grandmother, honey. Mom had given it to me when I was your age, and I passed it on to you...Unfortunately, something terrible happened years ago, and we were separated. I had no clue we'd cross paths again in this way."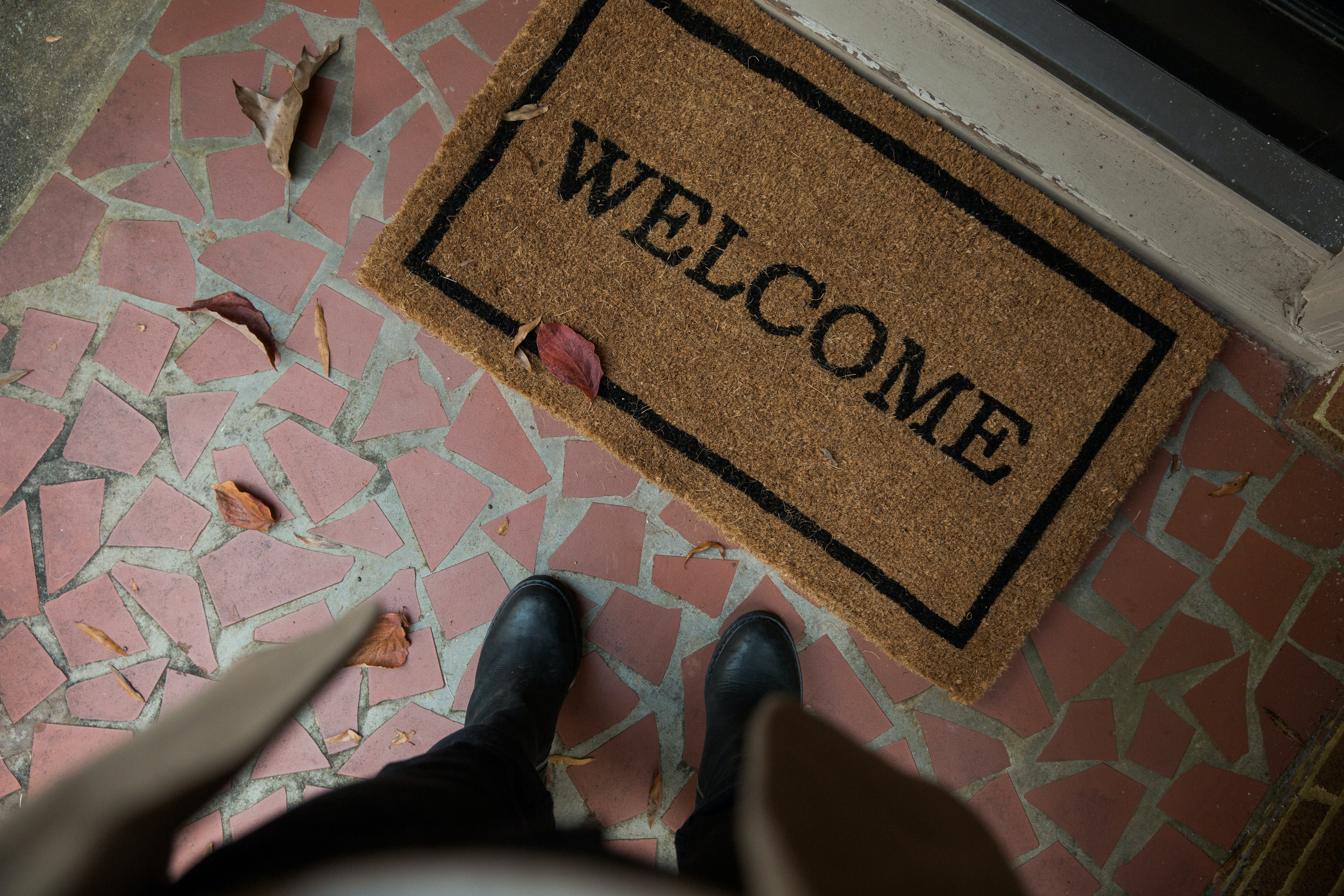 Brittany and Hannah paid a surprise visit to Maisie. | Source: Unsplash
"How about we go inside and talk?" Maisie suddenly proposed to Brittany. "Shall we, Hannah? It's great that we're all together, right?"
"Yes!" Hannah exclaimed happily and went inside. Maisie began to cry and hugged Brittany again.
"Oh, I'm genuinely sorry, honey," Maisie began as they sat on her living room couch. "You would not have had such a great girl as Hannah if you had listened to me at the time... I now understand that I was terribly selfish in demanding you become a lawyer like your late father. And I'm sorry I wasn't supportive of your marriage to Josh just because he wasn't well off. I shouldn't have done that..." Maisie was in tears and Brittany as well and this time, it was her turn to speak.
"Mom, I'm so sorry too for leaving you when you didn't accept Josh and my relationship. I should have been more forgiving. And we did struggle financially for a while, but it all worked out in the end, thank God."
"But wait, didn't you move to a different town after marrying Josh? How come you're here again?" Maisie asked.
"Josh is now a businessman, and he wants to expand his operations here, so we returned. He's currently on a trip, but I'm sure he'd love to see you!"
"Oh, I have to say sorry to him. And—"
"Gran!" Hannah came out running. "Mom! I'm starving. What's taking you so long?"
"Nothing, sweetheart! We were just discussing whether you'd like to have cake or choco chip cookies for dessert tonight?"
"How about both?" Hannah asked greedily.
"Sure, why not? Come on, Gran will make it for you!"
That day, Brittany and Maisie baked a cake and cookies together – just like they did when Brittany was a kid. They felt incredibly happy after reuniting. And so was Hannah, who got a mini feast of cookies and cake.
What can we learn from this story?
Miracles do happen. Maisie and Brittany never imagined they'd be reunited one day, and the fact that Hannah would be the link that brought them together again was a miracle for them.
It's never too late to say sorry and learn from your mistakes. Maisie realized she shouldn't have been so harsh on Brittany and apologized.
If you enjoyed this story, you might like this one about a misogynistic man who lashes out at a woman for damaging his car until karma teaches him a lesson the hard way.
This account is inspired by our reader's story and written by a professional writer. Any resemblance to actual names or locations is purely coincidental. All images are for illustration purposes only. Share your story with us; maybe it will change someone's life. If you would like to share your story, please send it to info@amomama.com.
Subscribe if you like this story and want to receive our top stories!