Bride on wedding day. | Source: Flickr / Flyinace2000 (CC BY-SA 2.0)
Groom Gets Bride's DNA Test Results and Cancels Wedding Immediately – Story of the Day

When Andy's parents confronted him and demanded that he ask his fiancee for a DNA test, he was left confused and angry at their suspicions. What he soon discovered was something that he could never have seen coming.
Andy left his hometown to go to a prestigious college in the city. He studied theology as he hoped to one day become a pastor. Andy was a devout Christian with a modern understanding of the church that he hoped to share with the world. In his class, he met a young woman named Jessica, who he quickly fell in love with.
The two would attend church together and host prayer meetings on campus. As it turned out, Jessica was from the same town as Andy, but their paths never crossed, which was odd considering how small the town was.
"Stranger things have happened," Jessica told him.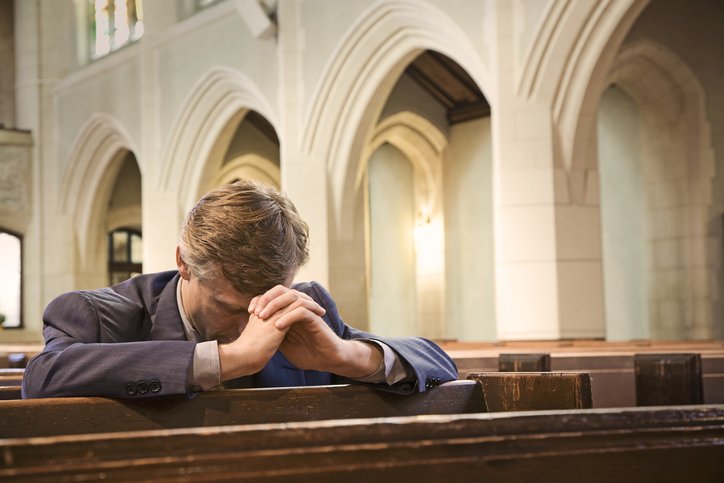 For illustrative purposes only. | Source: Getty Images
Andy's father, Ronald, had always told him never to wait too long and that time was of the essence. Ronald never expanded on this thought, but Andy took his word as gospel. Unable to ignore his feelings for Jessica, he decided to seize the day.
On Sunday, after church, Andy took Jessica for a walk in the campus gardens, where he got down on one knee. "I don't want to waste another second. When I'm with you, I feel complete. I know that the Lord brought us together for a reason. Jessica, will you marry me?" Andy asked.
As tears rolled down her cheek, Jessica said, "Yes!"
Andy and Jessica said a prayer as they hugged each other in front of the setting sun. Both were excited to head back to their hometown when the semester was over. Andy was anxious to introduce Jessica to his family. He was a big family man and wanted Jessica to feel welcome.
For illustrative purposes only. | Source: Getty Images
In getting to know Jessica, Andy discovered that she had always felt lost. "Why did you first join the church?" Andy had asked.
"A part of me felt that I didn't belong for some reason. I love my parents and my family. But I felt like I was going crazy like I was an alien or something. I followed my heart, searching for a sense of belonging. My heart led me to Jesus, and the rest is history. I still feel out of place at times, but the power of prayer always gets me through it," Jessica revealed.
"She is a mirror image of dad's ex. It's uncanny."
Andy went above and beyond to ensure that Jessica felt welcomed. Unfortunately, nothing could've prepared either of them for what was to come next. Andy called his father to arrange a barbeque and invite the entire family.
He intended to host a pseudo-engagement party where all his relatives could meet Jessica for the first time. When Andy and Jessica arrived, his father, Ronald, and his mother, Carrie, came out to greet them.
For illustrative purposes only. | Source: Getty Images
"Mom. Dad. I'd like to introduce you to my fiancee, Jessica," Andy said, gesturing toward his soon-to-be wife. Both Ronald and Carrie couldn't help the expression on their faces. Both looked like they had seen a ghost. Ronald slowly offered Jessica a hug as his face turned white.
"Rose–sorry, Jessica, it's so nice to meet you," he said, his words almost trembling as they left his mouth. Carrie also seemed off when she hugged Jessica, and Andy could tell something was wrong.
"By any chance, Is your mother's name Rose?" Ronald asked Jessica with an inquisitive look on his face.
Andy watched the interaction with a curious look as he grew more uncomfortable. "No, um… My mom's name is Ashley," Jessica responded as she looked toward Andy for help.
"Hey, dad. Why don't we get her settled in and introduce her to everybody? Shall we?" Andy said in an attempt to break the strange tension. As the break was brief, Andy and Jessica were hoping to get married in a small ceremony before the next semester began.
As Jessica sat inside, preparing plans for the wedding, Carrie dragged Andy into the kitchen to chat. Jessica had felt eyes constantly watching her since she was introduced to the family. She couldn't shake the feeling that she was the center of gossip, and not for good reasons.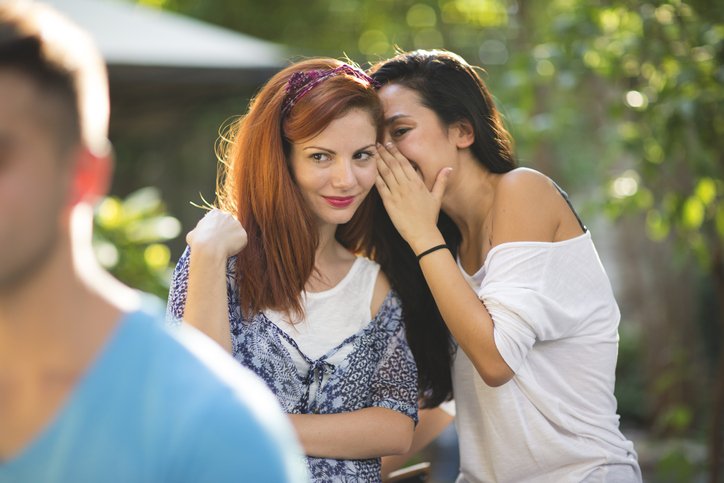 For illustrative purposes only. | Source: Getty Images
Carrie spoke to her son in the kitchen with an odd sense of urgency. "Listen, Andy. I'm not sure if you noticed, but your dad and I were kind of surprised when we met Jessica," Carrie told him in a half-whisper.
"Oh, really? Mom, a blind man could've seen how awkward you and dad were acting," Andy replied.
"Yeah, well, some things are really awkward, Andy. Listen to me closely. We have to do a DNA test on Jessica. She is a mirror image of dad's ex-girlfriend, Rose. It's uncanny," Carrie said as she looked around nervously.
"Calm down, Andy. You sound crazy. We've already spoken about this."
"Oh jeez, mom. Is that why dad was asking about her mom? Like Jessica said, her mom's name is Ashley. Nobody in her family has ever heard of us, and vice versa. You guys are being really weird about this. Let it go," Andy replied.
Later, Andy went to talk to Jessica about his conversation with his mother. Jessica was clearly stressed about the seating arrangements and habitually pulled out her hair when she was nervous.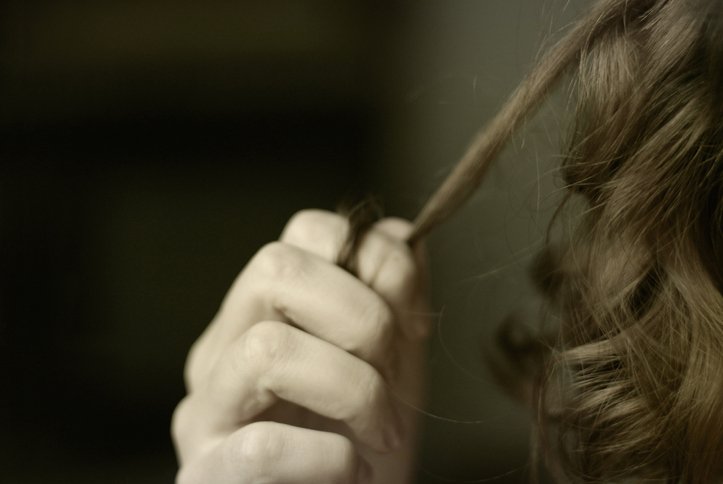 For illustrative purposes only. | Source: Getty Images
"First of all. I think it's kind of cute that I have a doppelganger. At least it explains why I've felt like I'm being watched all the time, but it's just a rumor, my love. It'll pass. More importantly, how can I plan this whole thing in such a short time?" Jessica replied.
"Even if you arrange it perfectly, people will probably end up sitting where they wanna sit. Let's go for a walk to unwind," Andy said. After Jessica and Andy left the house to stroll through the yard, Carrie snuck into the room to take one of Jessica's loose hair strands from the table.
Two weeks later, the wedding day is about to commence. Both Andy and Jessica are beyond nervous. Andy is donning his late grandfather's suit, while Jessica is wearing her grandmother's old wedding dress. Both are waiting patiently for the ceremony to begin.
Meanwhile, Ronald and Carrie have just received a letter in the mail. They opened the letter and read slowly, twice over. Afterward, they looked at each other with grim expressions.
"I KNEW IT!" Ronald exclaimed.
"What are you waiting for? Go and show Andy. Hurry!" Carrie shouted. Ronald found his son adjusting his suit in the men's changing rooms in the church. Andy turns to see his dad out of breath.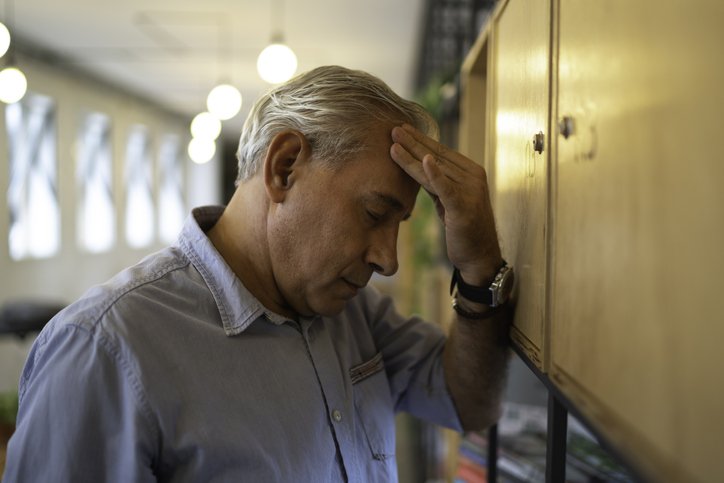 For illustrative purposes only. | Source: Getty Images
"Dad? Are you okay?" Andy asked."I'm really sorry, son. I wish there was another way we could've figured this all out," Ronald replied as he handed Andy the envelope. Confused, Andy read through the letter, and a look of despair washed over his face.
Andy rushed to Jessica's changing room without a second thought, and Ronald called Carrie to join him in following Andy. When Andy arrived in Jessica's changing room, she saw that he was flustered.
"Are you and dad my real parents?"
"Andy, what's wrong? You shouldn't be back here. You know it's bad luck to see the bride in her wedding dress…" Jessica says.
"Babe… W–we need to call off the wedding. T–they were right. Everyone was right. Your mom, Ashley's not your real mom," Andy blurted out, barely able to form the words.
"Calm down, Andy. You sound crazy. We've already spoken about this. Everybody's making up rumors because I look like your dad's ex-girlfriend from decades ago. Big whoop!" Jessica replied.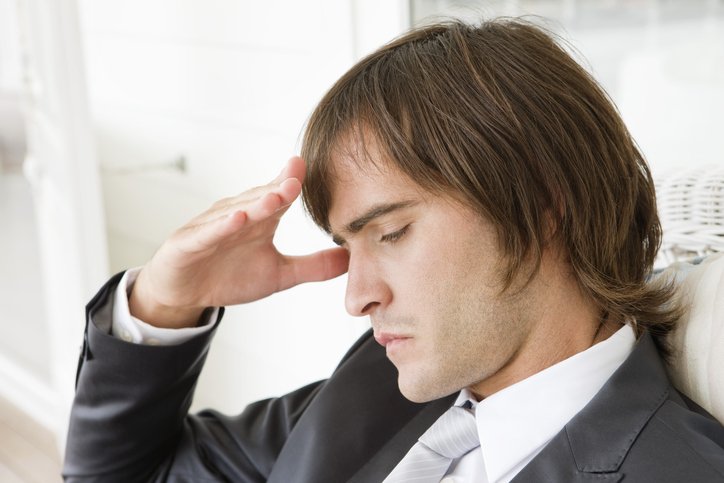 For illustrative purposes only. | Source: Getty Images
"Just look, Jessica," Andy said as he handed Jessica the envelope.
"My mom secretly got a test done somehow. Even though I told her not to and disagreed. She did it anyway. I'm still trying to figure this all out. But this test confirms one thing for sure. Jessica, Ronald is your dad... you're my sister!"
Jessica sat down slowly in her seat as her hands began to tremble. She couldn't believe what she was reading. As she felt like her entire world came crashing down, she immediately called her parents, who were out in the church hall waiting for the ceremony to start.
"Hi, angel. You're not getting cold feet, are you? Should I come to the changing room?" Ashley asked Jessica.
"Are you and dad my real parents?" Jessica asked immediately.
"W–what do you mean?" Ashley responded as she scurried out of the church hall.
"Are you and dad my birth parents? Did you give birth to me?" Jessica reiterated.
For illustrative purposes only. | Source: Getty Images
Ashley hesitated as she clutched her purse tighter before taking a long breath and replying, "No, Jessica. You were adopted. You were left at the door of an orphanage. Your father and I thought that since we couldn't find any information about your real parents, we could just raise you as our own, and it wouldn't matter. Please forgive us, angel," Ashley replied.
Without replying, Jessica dropped the call. Ronald and Carrie slowly entered her changing room and asked Andy to sit next to Jessica. Andy held Jessica's hand, but for the first time since they met, there was no intimacy.
"Years ago, I dated a woman named Rose. We were planning on getting married and starting a family. One day, out of the blue, Rose vanished. Without a trace, she was just gone. We reported her missing and looked everywhere for her, but we couldn't find her. Everyone in the family knew Rose. Andy, your mother was Rose's best friend."
"That's how we met. I ended up falling for your mother, and Rose became something of a memory. We always wondered about her and whether she would ever come back. And then, three weeks ago, you brought home Jessica. It was as if you had brought Rose home."
"Jessica's not just a doppelganger. It was as if you'd cloned Rose. We didn't know what to do but knew something was amiss. So your mom got sneaky and did a DNA test. We had to know. I'm sorry it ended up like this, kids. You guys go out and talk. I'll talk to the family," Ronald told Andy and Jessica.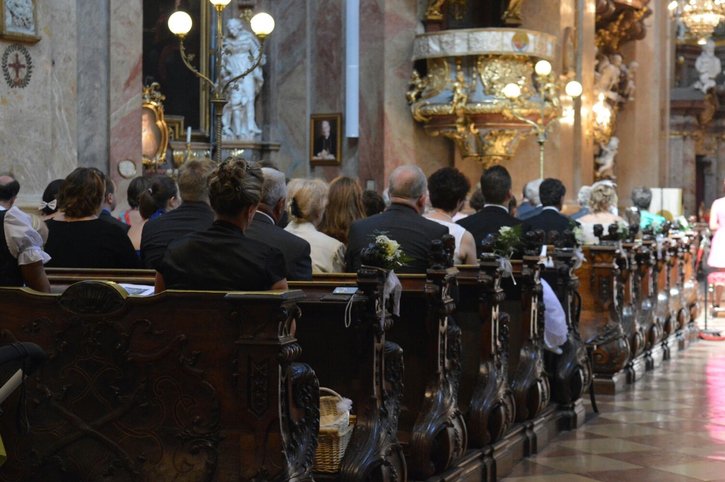 For illustrative purposes only. | Source: Getty Images
Andy and Jessica left through the back door without saying a word to catch their breath and take a stroll before facing the family. Ronald and Carrie went to the church hall to inform the guests that the wedding was canceled in light of the new information.
Everyone was stunned to learn that the rumors were true. Ronald and Carrie also comforted Ashley and her husband, Jacob, who were both riddled with guilt for keeping the truth from Jessica for so long. As Andy and Jessica walked through the garden together, neither knew exactly what to say to the other.
"So I know that things are bizarre right now. But there is a bright side to it…" Andy said.
"Yeah, I think I know what you're gonna say," Jessica replied.
"You were right all those years. You weren't crazy. You had a whole family that you didn't know about. And they were in the same town as you this whole time. So let's ignore the awkward stuff and focus on that. Welcome to the family, Jessica. I promise, they're much less weird when they haven't seen a ghost," Andy responded.
"Thanks… Bro," Jessica replied awkwardly.
"Yeah, that's gonna take some getting used to," Andy retorted.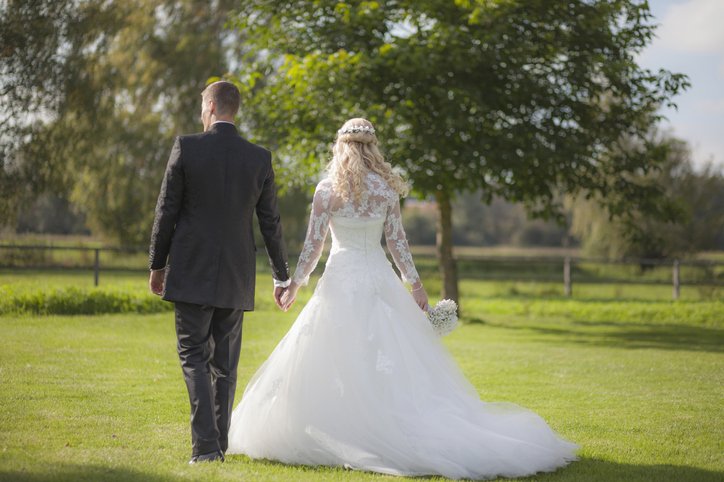 For illustrative purposes only. | Source: Getty Images
The two returned to the church changing rooms and got changed. As they walked out into the church hall, their family waited for them to welcome Jessica with open arms. Everyone was glad to have Jessica with them, and she was happy to have found a new family.
What can we learn from this story?
The truth has a way of catching up to you. Jessica always had a gut feeling that something was being hidden from her. Even though her adoptive parents didn't reveal the truth for most of her life, the truth still found its way to Jessica.
Trust your gut. From the moment that Ronald and Carrie saw Jessica, they knew that something was wrong. Regardless of the implications, they trusted their gut, and thankfully, it led them to the truth.
Share this story with your friends and family. It might inspire them and brighten their day.
Click here to read another story about an old man who takes a DNA test and finds sisters he lost over 70 years ago.
This piece is inspired by stories from the everyday lives of our readers and written by a professional writer. Any resemblance to actual names or locations is purely coincidental. All images are for illustration purposes only. Share your story with us; maybe it will change someone's life. If you would like to share your story, please send it to info@amomama.com.
Subscribe if you like this story and want to receive our top stories!