A couple sitting together. | Source: Unsplash
Taurus Woman and Aquarius Man: When the Grounded and the Dreamy Fall in Love

When the grounded Taurus woman meets the innovative Aquarius man, their worlds collide in an enchanting contrast, forging a path where love and growth entwine.
The union of an Aquarius man and a Taurus woman may seem like an unlikely match. These two individuals possess contrasting qualities that can either lead to clashes or become the foundation for personal growth and a harmonious relationship. In this article, we will explore the dynamics of a grounded Taurus (April 20 - May 20) woman and an air sign Aquarius (January 20 - February 18) man, delving into their distinct traits and how they can complement each other. By embracing their differences and finding common ground, they can create a unique and fulfilling bond that defies conventional expectations.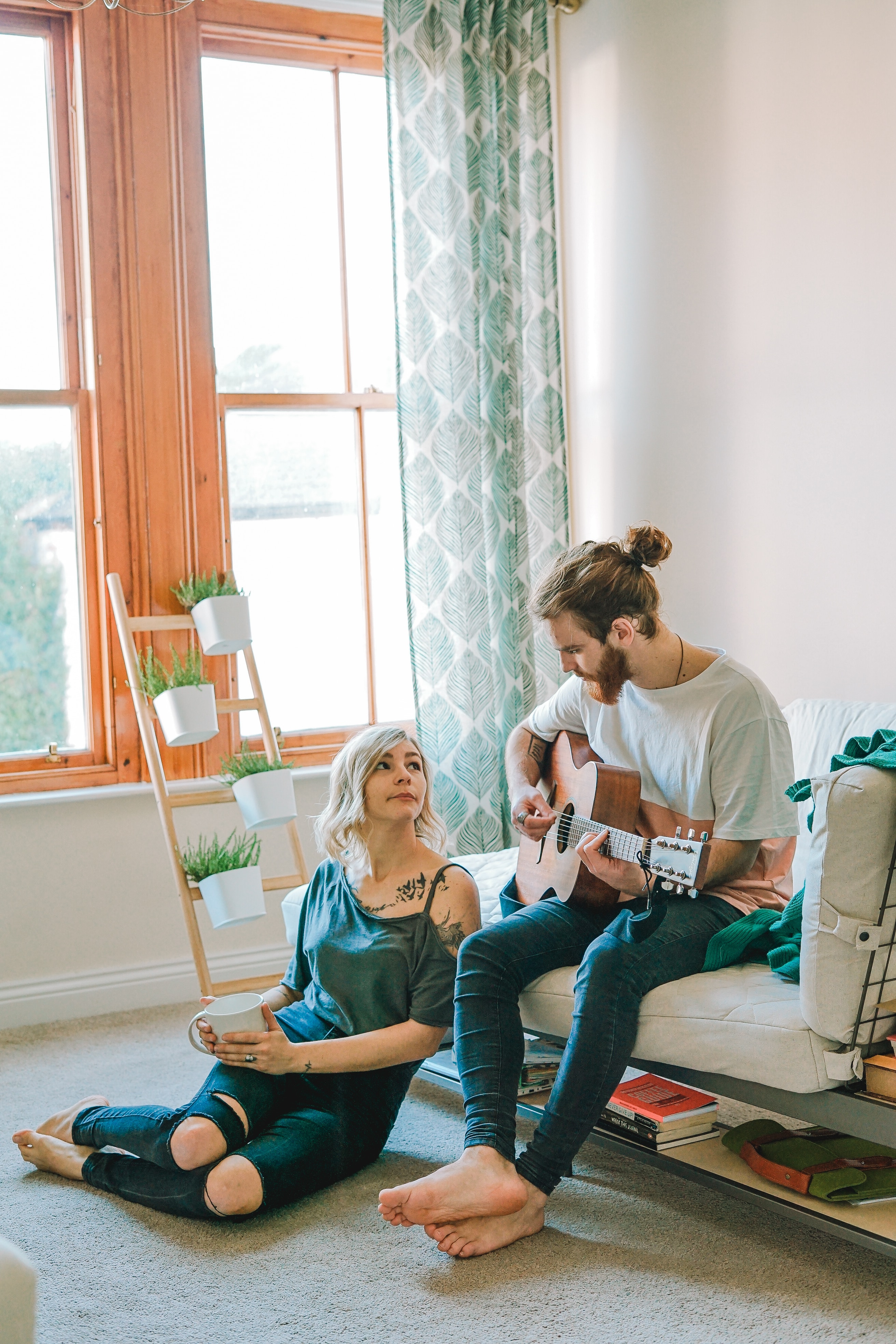 A couple sitting in a room with the man playing guitar. | Source: Unsplash
Earth Meets Air: The Dance of Practicality and Imagination
One of the primary differences between the Taurus woman and Aquarius man lies in their approach to life. The Taurus woman is firmly rooted in practicality, valuing stability, routine, and the known. On the other hand, the Aquarius man's mind soars in the clouds of ideas and possibilities, embracing an open-minded, experimental, and sometimes unpredictable nature.
Wanderlust & Home-bound Hearts: Navigating Diverse Desires
While the Taurus woman cherishes the comforts of home and may be less keen on exploring the world beyond her familiar surroundings, the Aquarius man craves new experiences and intellectual stimulation. This divergence in desires can lead to conflicts if not addressed openly and honestly.
Finding Equilibrium: Embracing Quirks and Complementing Strengths
For the Aquarius man and Taurus woman, achieving a harmonious relationship lies in their willingness to embrace and learn from each other's strengths and weaknesses. The Taurus woman can learn to let go of her attachment to routine and venture into new territories, discovering the joys of exploration. Simultaneously, the Aquarius man can benefit from grounding himself, appreciating the beauty of stability and consistency.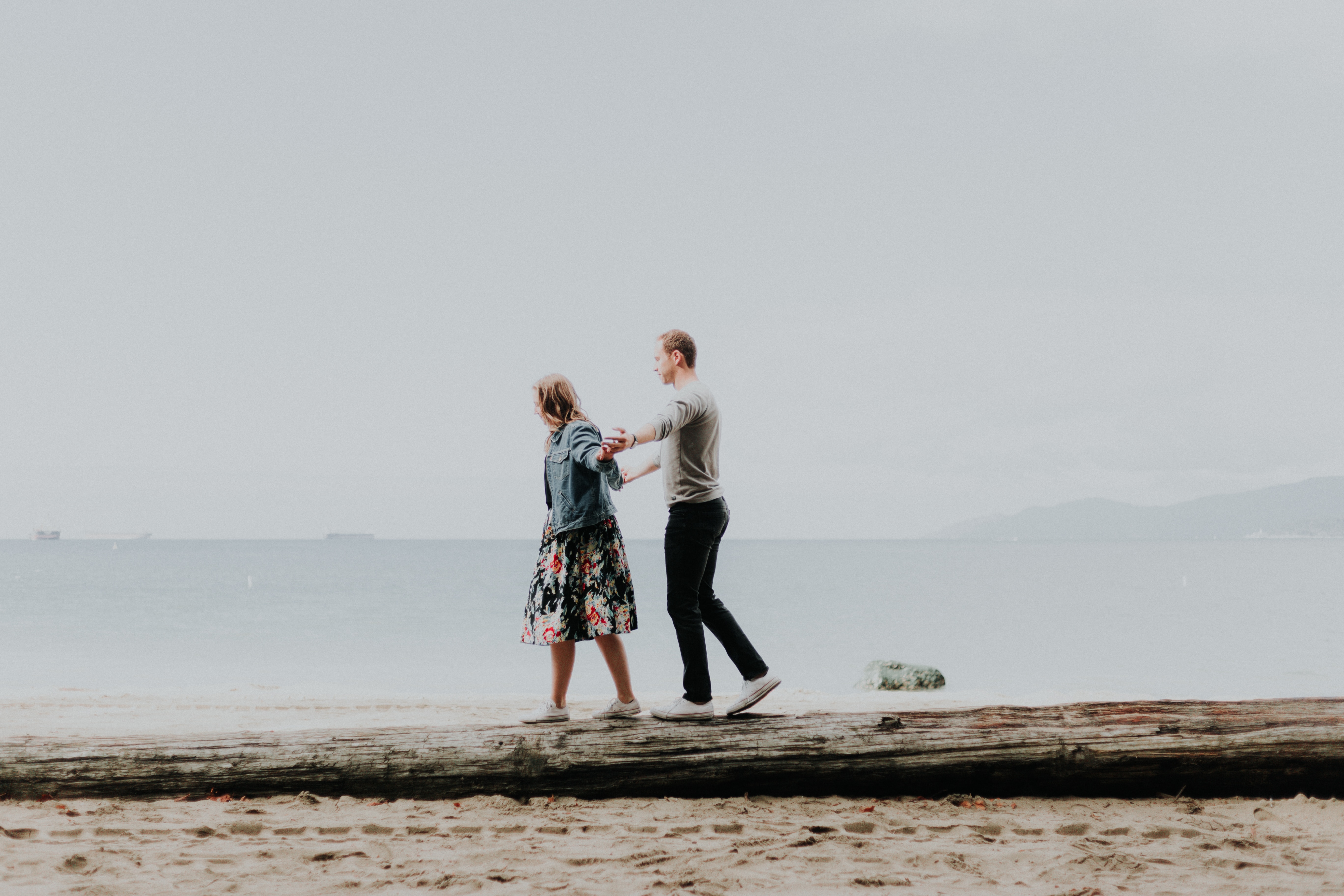 A couple balancing on a log in front of the ocean. | Source: Unsplash
By finding a balance between the familiar and the unknown, they can create a relationship where they feel at home yet are open to exciting adventures, filling in the gaps that each may not have realized they were missing. However, the Aquarius man's unpredictable nature may still create nervousness for the security-seeking Taurus woman.
A Meeting of Minds and Hearts
Another potential point of contention between these partners is their different thinking styles. The Aquarius man is open-minded, eager to consider different viewpoints, and loves engaging in intellectually stimulating conversations. In contrast, the Taurus woman tends to be more conservative, deeply valuing her principles and morals.
This difference can be both intriguing and vexing. The Aquarius man may feel as though he's interrogating his partner, while the Taurus woman may be frustrated by her partner's ever-changing perspectives. However, if both partners can put their staunch natures aside, they have the opportunity to truly appreciate each other's minds and virtues.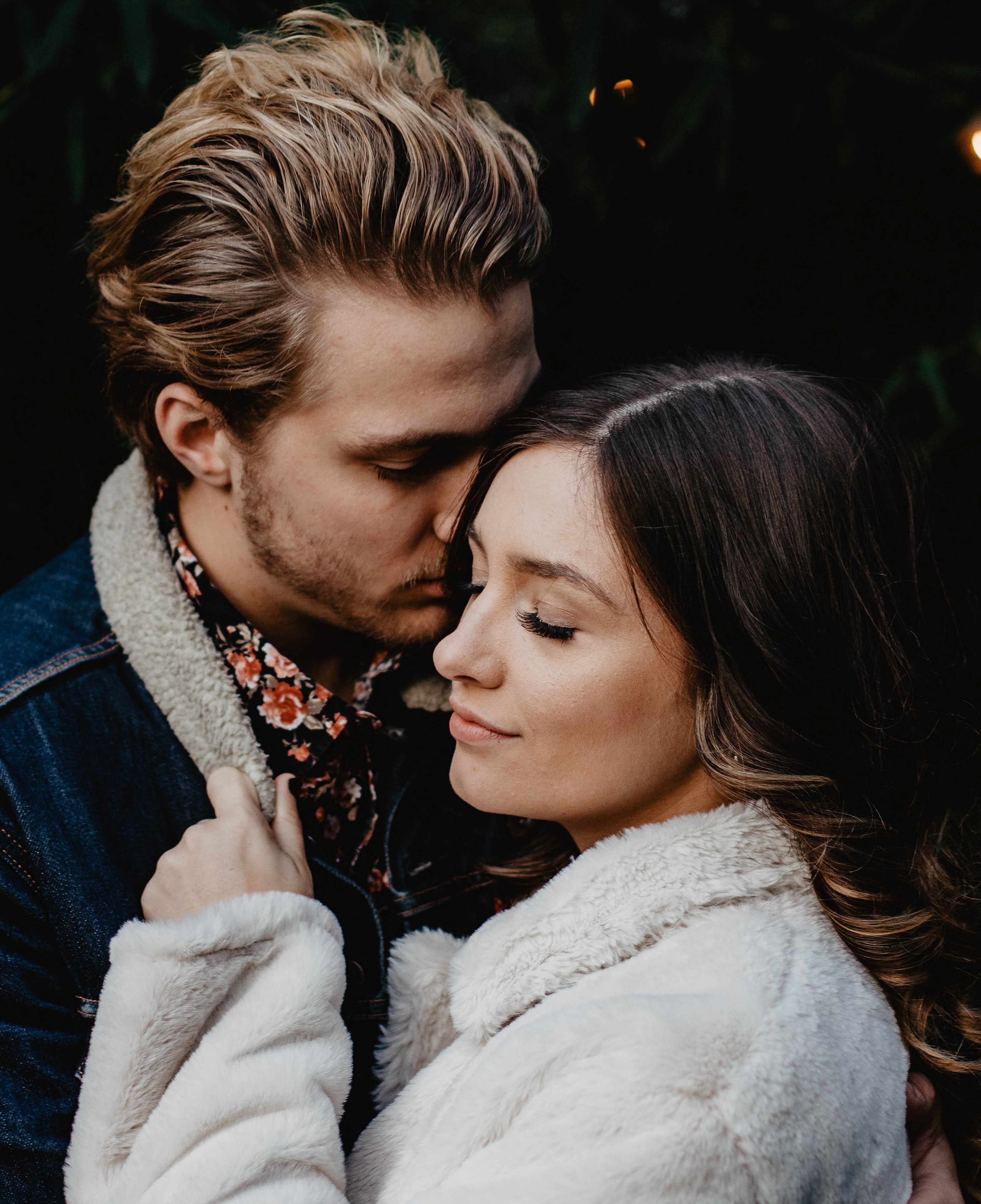 A couple. | Source: Unsplash
Love Blooms Amidst Diverse Perspectives
The Aquarius man's open-mindedness and humanitarian nature may deeply resonate with the Taurus woman's loving heart, especially when he strives to help loved ones achieve their practical dreams.
On the other hand, the Taurus woman's integrity and dedication to her values can be endearing to the Aquarius man. When he learns to accept her stubborn viewpoints, he gains a deeper appreciation for her unwavering commitment to her principles.
Beyond Staunch Stances: Building a Bond Rooted in Love
Stubbornness can be a significant challenge for this pair. However, tapping into their open minds and loving hearts allows them to form a deep emotional connection that exceeds their wildest dreams. As they open up to one another, they'll find their bond strengthens, creating a life filled with love and understanding.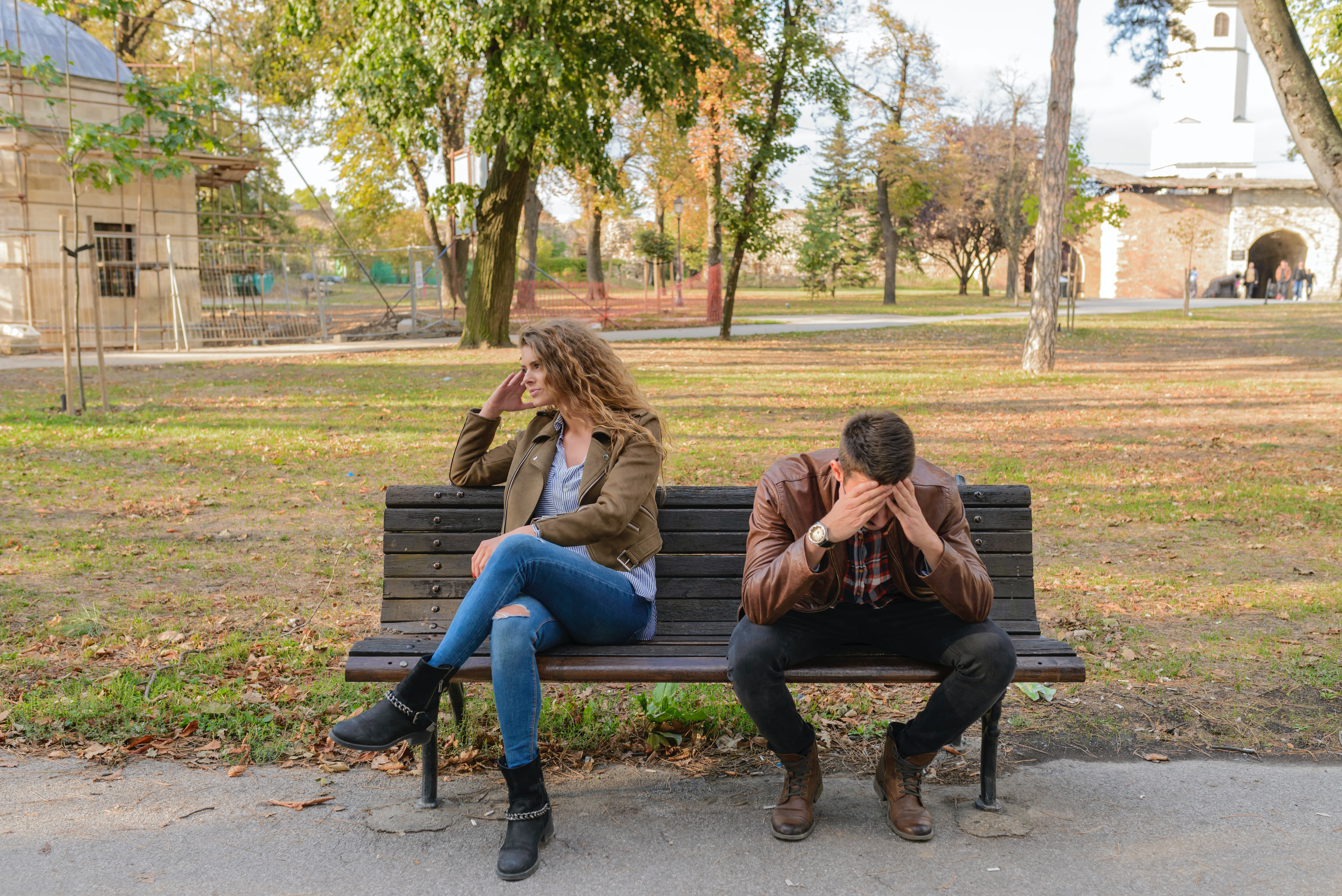 A couple arguing | Source: Pexels
Aquarius Charms and Quirks: Love in the Presence of Contradictions
While Aquarius men can be loving and caring, they also tend to be distant and aloof at times. For the compassionate Taurus woman, this distance can be challenging to deal with. However, she will still admire her Aquarius man's love for humanity and drive to help his loved ones achieve their dreams, even if that compassion is not always directed solely at her.
Taurus Charisma and Convictions
Despite being a homebody, the Taurus woman values her independence, which appeals to the Aquarius man, who also values autonomy in relationships. He appreciates her sensual nature, and she has the unique ability to draw him out of his head-space and experience the world on a deeper, more emotional level.
Finding Serenity & Shared Adventures: Nature Beckons
Though the Taurus woman may not be as keen on globe-trotting as her Aquarius partner, she loves nature, and this is an area where they can find common ground. Together, they can embark on adventurous activities such as hiking, stargazing, or canoeing, provided they also allow time for comfort and relaxation.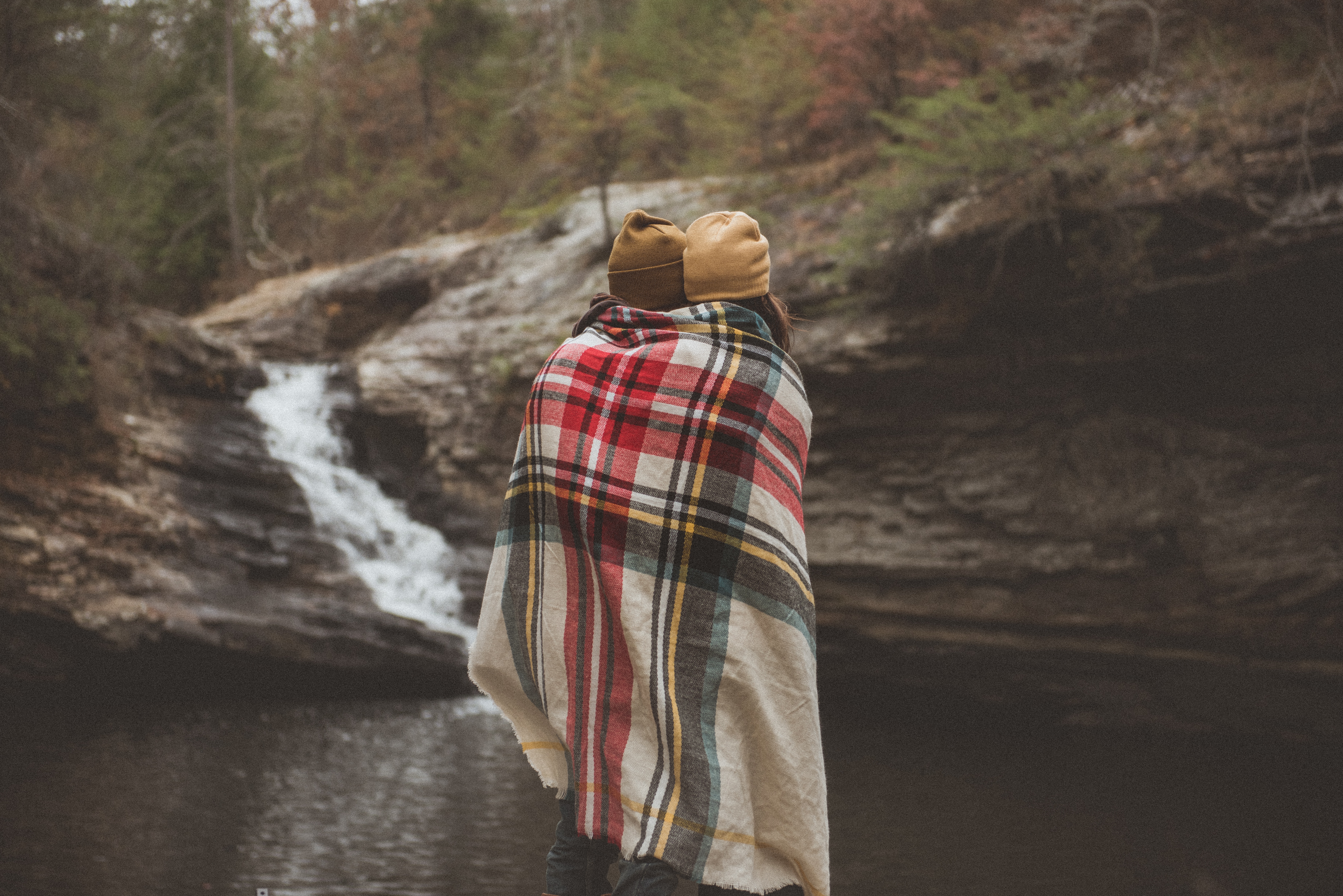 A couple with a blanket wrapped around them in front of a body of water. | Source: Unsplash
Stars Aligned: Celebrities Redefining Love's Boundaries
Robbie Williams and Ayda Field, Cate Blanchett and Andrew Upton, plus Ed Sheeran, and Cherry Seaborn, are famous couples that showcase the potential for a successful and fulfilling relationship between a Taurus woman and an Aquarius man.
The union of an Aquarius man and a Taurus woman may initially seem like a case of "opposites attract." However, they can forge a solid and loving connection by embracing their differences, finding balance, and appreciating each other's unique qualities.
Discover even more secrets of the water-bearer plus bull connection by reading: Aquarius Woman and Taurus Man: Compromise & the Power of Hip Coffee Shops
Subscribe if you like this story and want to receive our top stories!